In El Hierro you can practice all types of immersions, from the calmest ones, de-energized and at shallow depths, with a high experience grade is required.
Here you will find some of the main zones of scuba diving in Spain, such as the scuba diving zone of El Bajón or the scuba diving zone of La Restinga of El Hierro, among others. All of them will impress you with their incredible submarine landscapes full of life, richness, and a big ecologic value. The seabed of the island is an authentic paradise for every scuba diving lover. The temperature of the water is normally between 18 and 25º C during the whole year which attracts different tropical and Mediterranean species, which cohabitate together in the sea. The dense vegetation that covers the rocky shallows makes the island the perfect refugee for a big variety of flora and fauna and, on some occasions, a zone of stopping by for pelagic animals.
We make excursions every day. Usually, two in the morning but, depending on the necessities of the scuba divers, we can organize a maximum of four immersions, three in the morning and a nocturn one.
Most of the immersion zones are just a few minutes away from El Muelle de la Restinga. El Mar de las Calmas, by being sheltered from the Alisios wind has good weather practically all days of the year. Inside of the reserve, anchoring is only possible with one embarkment per buoy, which permits an almost exclusive scuba diving without massification of scuba divers.
We also dive on the East coast of the island, where their immersions are exactly as spectacular. Occasionally, we can organize trips to other scuba diving points of the island such as la Caleta, Roques de Salmor, Baja de La Palometa, Roque Bonanza, or Baja Nacón.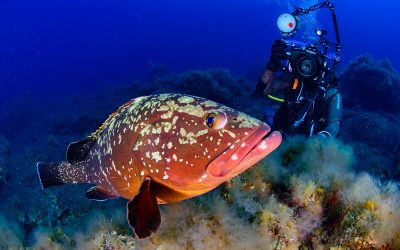 Located in the west limit of the Marine Reserve, this area starts near the seashore with the rocky bottom covered with seaweed that abruptly falls creating a rather tortuous path at not more than 10m depth. This serial has numerous cracks, arches, and small caves...