Official PADI Courses
PADI (Professional Association of Diving Instructors) is the number one certifier in the whole world, it realizes more than a million new certifications per year, with contrasting standards and differentiating themselves with their excellent quality control. Approximately 67% of certified scuba divers of the world are PADI scuba divers.
The PADI system of scuba divers formation bases itself in progressive training that meanwhile introduces skills, information linked with the security, and knowledge about the local environment to the scuba diver students in stages. The PADI courses are focused on the student and provide a maximum of practice and realistic applications.
The PADI Professionals make possible the subaquatic exploration and scuba diving adventures by maintaining the higher standards of scuba diving training, security, and client service. The ´" Philosophy of the Four Es" of PADI tell us the lifestyle of scuba diving requires four elements:
-Education: In addition to learning how to dive, you wide your capacities as a scuba diver through continuous formation. The wide range of PADI courses of scuba diving introduces you to new subaquatic activities and can even help you to a Degree for becoming a PADI professional.

-Experience: They offer a variety of experiences that go from local scuba diving to exotic scuba diving trips. Scuba diving is a social activity and, when you join a PADI Dive Center or Resort, you can explore near places of scuba diving or visit holidays destination all over the world with others that share your interests.

-Team: The scuba diving team makes diving possible. The best place for learning things about all the fun accessories and the new available scuba diving team is in your PADI Dive Center of local Resort.

-Environment and Conservation of our Surroundings: A subaquatic environment is fundamental for great diving and scuba divers are hugely defendants in protecting our aquatic resources. Throughout the PADI courses, the divers learn the importance of protecting fragile aquatic ecosystems, and they are stimulated for being implicated in worldwide initiatives and locals of preservation. For more than two decades, PADI has been associated with Project AWARE®.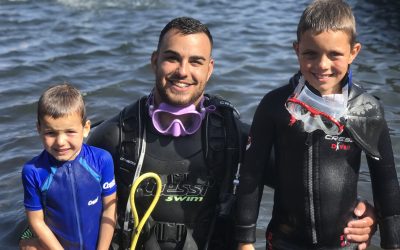 Have you wondered what it's like to breathe under the water? If you want to try diving, but you are not prepared enough for taking the plunge to a certification course, Discover Scuba Diving is for you. We offer you this program on the beach or from a scuba diving...